Sale!
FIELD NOTES // FRONT PAGE
"I'm not writing it down to remember it later, I'm writing it down to remember it now."
FRONT PAGE REPORTERS NOTEBOOK X 2 PACK
3¾" × 8″ // 70 Pages // Inside Pocket
From Field Notes:
It's sized perfectly for your hands, easy to write in with one hand while holding it with the other. The cover protects the wire binding, so it doesn't get caught on fabric or stuff in your backpack. It's college-ruled for optimal page economy. The diameter of the binding and the die-cut holes that the binding passes through are optimized for maximum "flippability." And the handy pocket in the back cover makes for a thicker, more stable hand-held writing surface, and also gives you a place to stash a shred of evidence or a receipt for the cocktails you bought to ply a reluctant witness.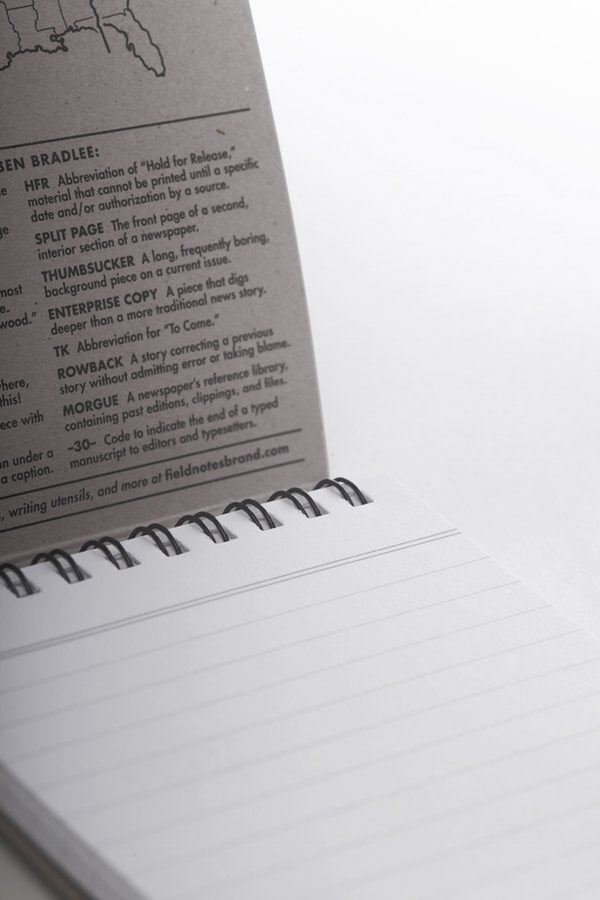 SPECIFICATIONS:
01.

Proudly printed by the good people of eDoc Communications, Mount Prospect, Ill.

02.

Cover: Neenah Environment 120#DTC "Concrete" with a brute force application of "Dachshund Nose" black soy-based Saphira ink.

03.

Innards: Cougar 70#T "White" vellum ruled with "Gray Lady" soy-based Saphira ink.

04.

Cover and innards printed on a Heidelberg Speedmaster XL 105 40" 6-color printing press.

05.

Bound with bombproof Renz "Double-O" Ring Wire, with appreciation to U.S. Patent #2142816, filed in 1935 by W. Walter Grumbacher.

06.

Corners rounded to 3/8″ (9.5mm) by a Challenge SCM round-corner machine.

07.

College Ruled Lines: 9/32″ (7.1 mm). 70 Pages.

08.

Notebook dimensions: 3–3/4″× 8-1/4″ (95mm x 210mm).

09.

Field Notes uses only the Futura typeface family (Paul Renner, 1927).

10.

All Field Notes memo books are printed and manufactured in the U.S.A.

11.

UPC: 858493003431
In stock