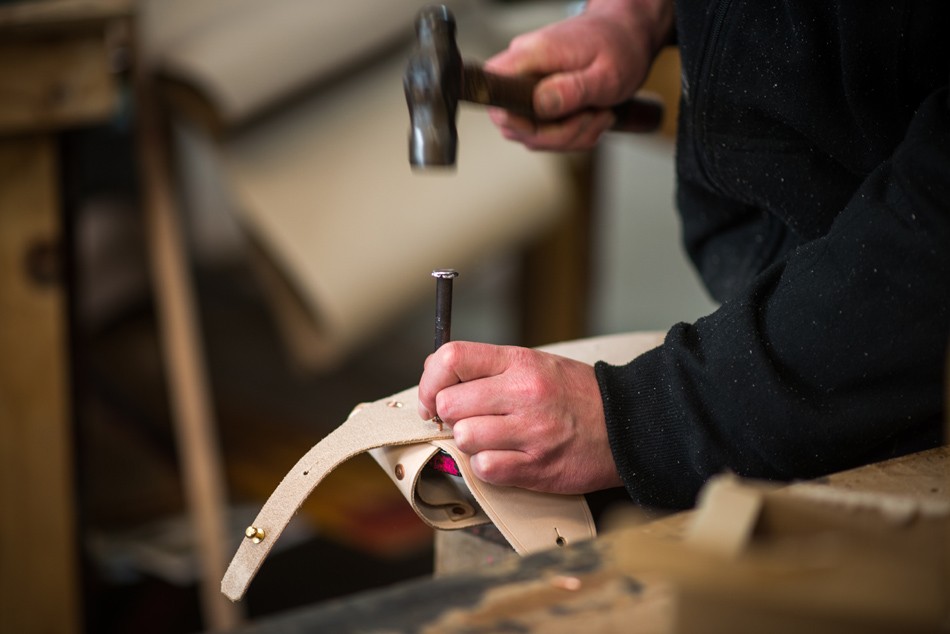 The Meniscus Leather Goods workroom is a triple threat, making costume props and armour for film and television clients both based on shore and Internationally, manufacturing leather components for a wide range of designers and creating our own range of wearable leather accessories.
The process of our own Meniscus Leather Goods range is focused on enduring design. We employ traditional leather working methods using turn of the century sewing and splitting machines, hand tools and anvils. Along side the traditional, we embrace new technologies and like to mix old techniques with modern mechanics. We source premium raw materials from as close to home as possible and our small crew make every single piece by hand.
An example of our component work is the leather labels we make for luxe fashion brand Empire of Genius. We also work with interior and architectural pieces such as fur rugs and embossed leather tiles. You can view examples at Jimmy Lousich.
On Screen
We are very proud to be a part of the International Film Industry. We make specialist armour, props, footwear and costumes for film, theatre and museums.
Recent work includes Prop and Costume department work for Asura and Ghost in the Shell. Prop, Art and Costume Department elements for Petes Dragon. Restoration and Props work for The Light between Oceans. Armour for Of Kings and Prophets.
You can see some of our work in the Gallipoli: Scale of War exhibition and also The Great War exhibition. Both are currently running in Wellington, New Zealand. Also the armour featured in this advertisement for Samsung.
We are very proud to have made the 'Dragon' armour designed by Ngila Dickson and worn by Luke Evans in the recent Film Dracula Untold. We also made armour worn by 100's of Turkish Soldiers in the film.
Along the way we have honed our skills working on such films as the Lord of the Rings, Avatar, The Lion the Witch and the Wardrobe, King Kong, The Lovely Bones and and many more including the Hobbit series.
Our People
Principals – Ben Price: Costume Props Supervisor, Laki Laban: Armorer and Production Manager, Emily Ireland: Coordinator + Buyer.
Core Crew – Paul: Pattern Maker and Footwear Specialist, Taipua: Costume Prop Maker + Art Finisher, Marie: Operations Manager.
Friends + Associates – Rubberband Ltd, Wil + Ryan – Dartworks Ltd, Gabi – peanutbuttervibesphotography.com,Russell – Russell Kleyn,  Erin –  Erin McNamara