We've all had a great New Year break, full of family, fishing and feasting and this morning we've strapped on our tool belts and hit the workroom floor with caffeine fueled gusto.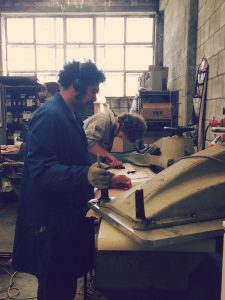 Thanks again to all of you for making 2014 a great year for Meniscus. We're proud to have worked on some awesome projects, both on film and for our customers. If you were given Meniscus Leather Goods for Christmas, we hope you love them. Please send us photos! We really like seeing Meniscus pieces out in the world.
So, onward we roll. It's looking like a busy year for our crew. Lots of films being made and both our stores (online and Reef Street) to be stocked full of fresh pieces for you to wear.
Oh, and we're cooking up an online sale to happen in the next week. Make sure you're on our mailing list, checking out our Facebook page or getting our tweets.